Apr. 19, 2022
Prefabricated construction, or "prefabrication," is an increasingly popular method of building in North America, particularly in places like Los Angeles and Arizona. This strategy uses components that are fabricated outside of a factory and then transported on-site to be put together to form a structure.
There are several different popular forms of prefabricated panels that offer different benefits. Depending on your specific building project, you may want to consider implementing some of these options. We've gathered information on the different types of precast and the benefits of using this strategy to help you make your decision.
Benefits of prefabricated panels
Because the prefabrication method is implemented indoors in a factory, building professionals don't have to worry about delays and disruptions from weather, vandals, intruders, or other complicating factors. It's a controlled, safe environment that allows owners to streamline the construction process and reduce waste. This makes prefabrication cost-effective.
European Style Wood Structure House
In many cases, prefabrication can also reduce environmental impact. It can reduce air, water, and noise pollution caused by construction projects.
Prefabrication is particularly helpful for projects with a high degree of redundancy. This means that the building has many similar or identical rooms. Some examples are student housing, hotels, hospitals, and institutional buildings.
As the industry struggles with a talent shortage, prefabricated components can help you complete a project with a smaller team. Because most of the work is done indoors, there is less pressure and fewer people can get more work done. These sites are also considered safer for workers than traditional sites.
Compared to on-site construction, portable construction takes much less time. In many cases, prefabrication takes less than half the time compared to traditional construction. This is due to better pre-planning, elimination of on-site weather factors, subcontractor scheduling delays, and faster fabrication because multiple components can be built at the same time. Shorter construction times allow construction companies to take on multiple projects at the same time, allowing companies to grow rather than focusing all their efforts and resources on one or a few projects at a time.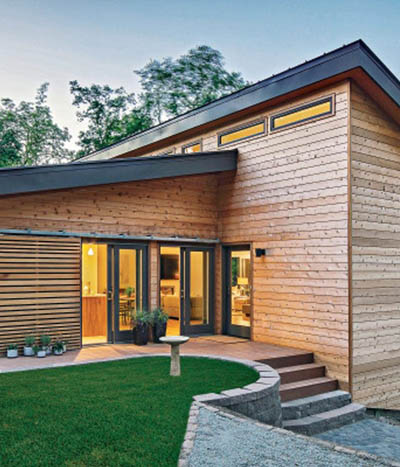 Modern Style Prefab House
Modular vs. prefabricated
Although modular buildings are often confused with prefabs, they are not one and the same. In fact, modular buildings are a category of prefabricated buildings. Just as all poodles are dogs, but not all dogs are poodles, all modular buildings are prefabricated, but not all prefabricated projects are modular.
Modular construction entails building entire sections of a project before those pieces are delivered to the site. This includes plumbing, electrical, and everything else needed for a functional unit.
This approach requires the least amount of site work and is the most focused. It is difficult to change direction with any kind of prefabricated component, but it is especially important to plan modular projects carefully in advance. Once a project has begun, there is not much room for maneuvering.
Panelization
This is another form of prefabricated component, but it requires more work to be done on-site. Panelization involves building walls, floors, and roofs in a factory and then shipping them to the construction site. These elements are then attached to structures that already exist on site. Water pipes and other infrastructure are then installed.
This may be a good medium for many projects, as it will help streamline part of the construction process without committing to a fully prefabricated project.

Final Thoughts
As prefabricated construction continues to grow in popularity, it will likely only continue to do so. Clients who choose this option can enjoy a quality, fast, economical, and environmentally friendly method of construction. In addition, construction companies may soon increase their investment in modular construction processes, which will benefit their business and client relationships. Prefabricated construction is proving to be an extremely viable option, and its advantages and benefits are expected to rise in the future as manufacturing technologies continue to improve.
Click on the link for an in-depth look at construction technology.